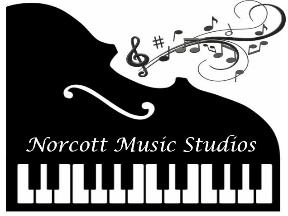 Norcott Music Studios
DianeNorcott.MyMusicStaff.com
Welcome
Thank you for taking the time to explore Norcott Music Studios. I'm pleased that you have taken the time to research and find the best teacher for your family. I invite you to observe my teaching in action. Not only does this give you, the parent, an opportunity to see my teaching personally and check out the studio environment, it also gives your child the opportunity to see me and get a feel for the surroundings without the awkward pressure/ worry about the unknown. Before you finalize your decision in choosing a teacher, I also recommend that you schedule a single lesson (evaluation/ introductory lesson) with the teacher.
I'd like to take the time to explain to you my philosophy of teaching. I believe that music lessons teach much more than music & the instrument is merely a tool used to teach life skills such as commitment, follow through, work ethic, and cooperation. Students are rewarded with beautiful music & increasing skill as they work towards goals set between teacher, parent, and student.
I believe that students of all ages respond best in an environment of goals, therefore, we participate in a variety of programs. Each program has value & different programs meet the needs of different students at different times. My purpose is not to produce musical prodigies, but to inspire each to reach personal potential while rewarding diligent effort. Each program offers the student a goal & a deadline, a reason to reach a little farther than one might normally do with "just" a weekly lesson. (After all, each of these special events is only once a year & we want to do our best to present ourselves in the best light.) Among these programs are recitals, Festivals, Award programs, auditions, & examinations. Having an established set of goals gives students a purpose & a plan, the action behind it then takes on meaning.
In addition to the private lessons, students may use the lab in which they are practicing ear training skills that cannot be practiced at home & reinforcing concepts of rudiments, music reading, rhythm skills, and music theory that is introduced in lesson. Having a different approach to reinforcing these ideas helps to make the skills solid. After implementing the lab, students test scores improved notably and most students enjoy most of the lab "games". (There are a few that are difficult & can be frustrating, but even those bring success & that success feels so sweet when attained!)
Students will also participate in ensemble music making with peers. The social aspect of playing with friends is enjoyable. The musical benefits are tremendous! The need for counting becomes apparent, cooperation is developed, and students have the unique opportunity to absorb each other's strengths & abilities when they play together.
Please take a look at the calendar of events posted. You will see abundant opportunity! Please don't panic! Not everyone does everything on that list! Together, we will set reasonable & meaningful goals, selecting the things that are appropriate for each individual student at the given time.
I'd like to take a final moment to introduce myself to you. My name is Diane Norcott. I have been teaching full time since 1993 & absolutely love it! I have the pleasure of working with some amazing, inspiring young people and the privilege of being part of their lives, watching them grow through the years. After college (Victor Valley College & Biola University), I spent 3 years at the Suzuki Institute where I received training In the Suzuki method.I am a certified, trained Suzuki teacher. I also explored other philosophies of teaching (such as Orff, Kodaly, Pace/ Kinderkeyboard, and Gordon's Music Learning Theory) & actively took part in teacher training programs, gaining versatility & strength from each experience which can be applied toward each individual lesson uniquely.
I am a founding teacher & certified master teacher in the Royal Conservatory Music Development Program. (I'd like to add that this is an accomplishment of which I am particularly proud.) As a result, my students are able to participate in the most esteemed music program in the world. My hard working students consistently rank in the top 2% of the country in test scores. I have served on the Board of Directors (as Chapter President, among other roles) for one music teacher's group (CAPMT, the California Association of Professional Music Teachers), as chairman of various events, including the Southern Honors Festival (for MTNA, the Music Teachers' National Association). I have served as District Coordinator for NFMC (National Federation of Music Clubs) since 2009. I am also a member in good standing in the following organizations: NGPT (National Guild of Piano Teachers), Suzuki Association of the Americas, & the Steinway Society.
With consistent work, your student is guaranteed success. Since success breeds success, this becomes a life-long habit of success – applied to music, academics, & personal character. Welcome to Norcott Music Studios!